Volunteer Your Time
Please check our duffel bag page for directions on how to sew the duffel bags. They come in all shapes and sizes and in all types of fabrics. It's fun to come up with cute designs to bless the children.
Some other items you can make for the children in foster care are hats, bandanas, scrunchies, mittens, scarves, purses, quilts and quillows. Just a few hours of sewing can show a child such love and care! Can't sew? Donations of ready made, store bought bags would be wonderful!
Make a Donation
Contact your local Children and Youth Services Division of the Department of Human Services. Ask if you can donate any of the handmade items already discussed or if you can donate shampoo, creme rinse, soap, laundry soap, deodorant,and especially toothbrushes and toothpaste. Children are often removed in an emergency situation and placed with a foster family at any hour of the day and night. The children often don't have any clothing or personal items to take and caseworkers are always grateful to have a toothbrush, toothpaste, and a comb to send with the child to the foster home. Foster mothers are very blessed by these items.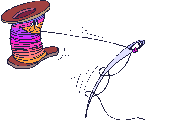 If you would like to sew duffel bags for children in the foster care system , please contact us! We will provide you with the way to donate.